After almost three years, the Master Bathroom is finally finished! We literally put the last touch on AFTER we closed on the house (I forgot to caulk around the shower handle). With about $3000 invested and lots of blood, sweat, and tears, it was a total transformation.

A view of the empty closet area. If we hadn't sold the house, we would have built custom storage for the closet, including two or three built-in dressers, space for shoes and accessories, and poles to hang shirts/dresses. However, the new owner will be able to layout storage in the closet as they see fit.

The soffit in the closet hides a giant pipe coming from the other bathroom. I think it turned out pretty well!

Apparently it was difficult for me to get the entire shower in one shot...

I really wish my pictures were better quality, but since we were in such a rush to finish, I only took them on my cell phone (and apparently not great pictures at that). I wish we could have styled the bathroom with pretty flowers and towels, however these final pictures were taken at 1 am the night before we closed.

To remind you, here's a quick before and after picture taken from the hallway:
Powered by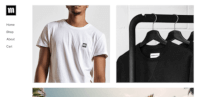 Create your own unique website with customizable templates.