First off, I have never used a sawzall before, but I quickly discovered that this tool has become my new favorite toy. IT GOES THROUGH EVERYTHING, AND IS AWESOME. Brian always told me how much he loved this little gadget, and now I'm a believer.

I started my project by tackling the soffit. I grabbed my handy sawzall and started drilling through the soffit supports one section at a time (sorry - no pictures. I was having too much fun). I would then take my hammer and pull apart each section until it dropped onto the kitchen counter. The process was relatively simple and quick - I think the entire soffit removal took about 45 minutes to an hour to complete. BTW, the kitchen feels

so much bigger and taller

now that the soffit is gone. Yay!

I'd like to officially name yesterday "Terrific Tuesday!" I scheduled my electrician to come by today (Yippie!), I took a quick nap, babysat my favorite dog Briggs, and of course demolished the kitchen some more. I should note that Brian was recovering from a 24 hour bug (101.7 temp), so he was MIA during demo.

The plumber that came by the other day gave me all good news, tips on doing some of the bathroom plumbing myself (without having to move the pipes for my new, taller, and off-center sink/vanity), how easy it would be for him to move the washer and dryer, but then was a little stumped about the pipe in the kitchen. He's 90% sure it's just a vent pipe, however he asked me to remove more of the drywall and the soffit so he could have a better view of where the pipe goes. Ask, and you shall receive.


---

To top off the night, I ripped down the rest of the drywall in the kitchen (tile was attached to it) and brought it down to countertop level. I took my handy razor blade and scored the drywall on the living room side as well, and pulled it off in small sections (trying not to go too far so I could reuse the drywall below). The room is really starting to look big, which I never thought could happen in this tiny space! Woot Woot!

Next, since I had more time on my hands, I decided to remove the crown molding around the soffit in the living room and in the kitchen. Easy enough, but I did end up splitting one end of an 11 foot piece of molding. Oh well. Such is life. By this point, since I was feeling so good about myself, I continued by removing the molding around the kitchen door, which then exposed to door frame. No one wants to see an ugly door frame by itself - so that went away too.




---

Okay, so now I really need some input and advice on the kitchen design. All of the cabinets are being replaced with new, shaker style cabinets. Currently, the cabinets are a brown color, but I'm going to paint them white for a more open feel. The uppers, however, are not going to exist. The current plan is to have open shelving using pipes and wood (see below). This is

not

me trying to be cheap (as I think this will actually cost me more than buying uppers), this is me trying to add some sort of rustic design to the kitchen. The issue that I am running into is what to do about storage. Right now, I have a pantry in the kitchen - which I could reinstall with the new cabinets, I'm just not sure how it will look with the open shelving. The other idea is to move the pantry "outside" the kitchen, by placing it on the other side of the wall where it is now (to the right of the current kitchen doorway). Would it be weird to have the pantry here? Thoughts please!
Powered by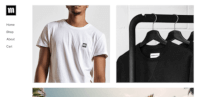 Create your own unique website with customizable templates.